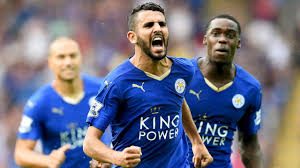 The story about Leicester City Football Club has made the news all over the world and I could not be happier. Not least as the media have attached themselves to this amazing story of belief and positivity – that surely is something to celebrate. If you are not familiar with the story you might wonder what all the fuss is about. Put simply, the tale of how this somewhat little known football club came out of the shadows to conquer the Premier League is one of the most amazing stories in UK sporting history for decades.
Leicester's football history is not paved with gold. They spent much of their time yo-yoing up and down the football divisions and never regarded as serious contenders. Indeed, their most noteworthy comment has always been that it was the club that brought Gary Linekar into the spotlight.
They started this season as obvious contenders for relegation with William Hill, the betting agent, citing them at 5000-1 on winning the league. So what happened to lead them to change their form and losing only one game in the first 15 of this season?
Many people put it all down to their manager but I think it runs far deeper than that. Even Gary Linekar, upon them winning, said it was "impossible for them to win" – well, clearly it was not impossible. It was absolutely possible. The simple fact is there is only one thing that turns an impossibility into something that is possible:
When all is said and done, you can have the best manager in the world, the wealthiest owners – but if the people in your team do not believe that they can win, then all the skills, tactics and money in the world will be useless.
There is no doubt that a series of good moves by both the previous and current team manager put the team in good stead but ultimately it comes down to a change in mindset. There is also the idea that Leicester City really didn't have anything to lose – they were pretty much going to be relegated to a lower division so the only direction for them to go was up.
When you have nothing to lose it gives you an edge, you take risks and just do whatever it takes. For other more popular clubs, they probably don't take the risks as they think about their reputation and all of the things that could possibly happen if the risk didn't pay off. When you don't want to risk losing, you don't play to your full potential, you don't bring your A Game; instead you choose to settle for an 'it will do' action. In football this could possibly mean playing to draw against an opponent rather than playing to win. In my book, that kind of action is fatal – you should always play to win.
Having nothing to lose meant that Leicester embraced innovative training and strategies during their rise to the top – drinking beetroot juice being just one of them. The risks paid off as they are the team to suffer fewest injuries and use the fewest players – perfect for a team with resources limited in comparison to the higher paid clubs.
Leicester City FC has proven that anything is possible. While there is no scientific evidence to say 'belief' played a major part in their incredible story, when everything else was stacked against them and statistically it looked impossible, what else would you say was at play here?
The team manager, Claudio Ranieri, has ensured a team spirit amongst not just the players, but the coaches and many of the other contributors to the team – an inclusion of staff usually kept in the back room has engendered a holistic approach that can only be likened to a tight knit family. In fact, the entire community of Leicester partied long into the night to celebrate an awesome victory of human endeavour and steadfastness
Team spirit, determination and clear focus were on the agenda with Ranieri at the helm – and his interest in the players themselves and the process of playing rather than the outcome has meant that the team's mental strength and physical agility was at an all time high.
While I cite BELIEF as the most important factor here, I also think it was Ranieri's interest in the players themselves that played a huge part here. Having a belief in yourself is fundamental to personal success – having someone else believe in you as well is the perfect winning combination.
One that turns the impossible into reality.