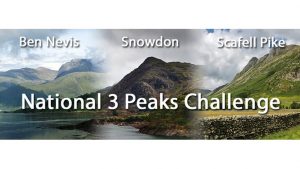 The three mountains in the National 3 peak challenge are:
Each Mountain is the tallest mountain within each representative country and not as is often thought the 3 tallest mountains in GB: Scafell Pike is the tallest in England; Snowdon, the tallest in Wales and Ben Nevis the tallest in Scotland — However, there are over one hundred peaks in Scotland which are higher than Scafell Pike, and 56 higher than Snowdon.
You will need a To do list for organising your own National 3 Peaks Challenge
 Walking team
We recommend organising a group of  four or more walkers.
If you don't have a group of four or more, we recommend taking part in an organised event, such as the Open Bus Three Peaks Challenge, which you can sign up to as an individual or a group.
---
 Optional registration
Registration provides guidance on organising a safe and responsible challenge, as well as recording your challenge online, and promoting any fundraising. Certificates of completion are included.
Registration costs £6 per person, and is available online at https://www.threepeakschallenge.uk/national-three-peaks-challenge/self-organised
---
 Transport
Depending on your location, you may choose to start at either at Ben Nevis or Snowdon – Ben Nevis is the most popular start point, but you can choose either.
You may choose to travel to the start either by train or road. Local self-drive hire firms are available at both ends.
Please note; If hiring a vehicle, the largest vehicle suitable for the Three Peaks Challenge is a 16-seater minibus, due to the small roads encountered en route.
Public transport
Ben Nevis can be accessed by train to Fort William station, including a sleeper train which arrives at 10am each day.
Snowdon can be accessed by train to Llandudno Junction or Bangor. From Llandudno, the Conwy Valley Line has a stop at Betws-Y-Coed, where buses are available to Snowdon.
---
 Drivers
Two dedicated drivers, who won't be walking with you, are really important to ensure your safety when travelling between the mountains.
If you're unable to recruit dedicated drivers, then I would recommend you go with an organised 3 peaks challenge.
---
 Kit
Make sure that each group member has all appropriate kit for the challenge.
For more info: https://www.threepeakschallenge.uk/national-three-peaks-challenge/equipment
---
 Training plan
Write out a sensible training plan for yourself and the individual group, to ensure that everyone is at a suitable level of fitness when taking part.
This can also be used as an opportunity to try out new kit. As this challenge requires a good level of fitness so preparation is key if you want to achieve your goal.
For more information and advice go to https://www.threepeakschallenge.uk/training
---
 Accommodation
To help you choose where you stay, please see https://www.threepeakschallenge.uk/national-three-peaks-challenge/accommodation/  recommendations.
---
 Food and drink
Food
Food is worth planning well. Ideally you don't want to eat junk food – it'll cost loads more, and it's not going to give you as much long lasting energy as some healthy snacks. Go for wholegrain and wholemeal foods, as these carbohydrates provide energy for longer.
Let Others Know
Once you know your driving route and the paths you'll be walking, you'll be able to figure out an approximate time scale – once you know your arrival and departure times for each mountain, make a couple of copies to give to a family member of friend who won't be coming.
Please contact us if you are interested and fancy taking part in this challenge. Dates for the challenge tbc in 2020
By doing so you will create a wonderful experience for yourself.
For more information contact us
T: 01829 760065